FACT: 75 percent of people in the United States are suffering from some degree of gum disease and are not even aware of it.
Call Now!
Only $99
New Patient
Comprehensive Exam
Full Mouth X-Rays and Dental Photos*
$339 VALUE.
*ADA: D0150, D0210 or D0330 and D0350.
Limited time offer. Conditions apply. New Patients Only. Cannot be combined with insurance. Provider DN14337.
What Is Gum Disease?
Gum disease is a condition that progresses gradually and one may not be able to realize they are suffering from it without expert dental help. In its early stages, when the disease affects only the gums, it is known as gingivitis. If gingivitis is left untreated, the infection penetrates into the bone and tissue supporting the teeth, leading to the advanced stage of gum disease, also known as periodontitis. Periodontitis could cause tooth loss and bone deterioration.
Symptoms of Gum Disease
Red, swollen, tender or bleeding gums
Loose teeth
Persistent bad breath or bad taste in the mouth
Gums that recede or are moving away from the tooth
Visible pus surrounding the gums and teeth
How Is Gum Disease Treated?
The treatment depends on the severity of the infection and the type of gum disease. Our practice offers different ways to prevent, diagnose, and treat periodontal disease. Learn more about our surgical and non-surgical treatments and procedures.
Advanced Testing: Modern saliva testing now allows our dentists to determine if patients are susceptible to periodontal disease and their risks of developing it. This medical breakthrough helps patients fully understand their oral health, as well as seek treatment for conditions they may not otherwise know they have.
Non-surgical Treatment: If the problem is detected in the early stages and the bone structure supporting the teeth has not been damaged, then a professional dental cleaning can help you get rid of the problem. This involves the removal of tartar and calculus from the root surfaces with a technique called scaling and root planing. Antimicrobial and antibiotic products may be prescribed to assist healing.
Laser Treatment: To treat periodontal disease with less pain and little to no recovery time, we offer laser gum surgery or LANAP. Laser gum surgery allows our dentists to distinguish between healthy and damaged gum tissues, removing the problem areas while leaving the healthy tissues intact. This treatment option is minimally invasive, more comfortable than traditional treatment methods, and can help save teeth that would otherwise require extraction.
Surgical Treatment: For treating advanced stages of gum disease, periodontal surgery may be needed to eliminate bone infections and regenerate lost bone. We may perform bone grafts and other procedures to help restore the jawbone's health for successful implant placement.
Our Convenient

Locations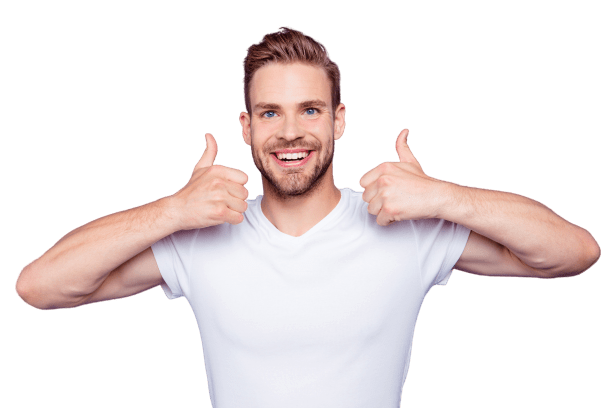 We Accept:
PPO Insurance
Credit Card
CareCredit
LendingClub
Our Specialty Services
Repairing Smiles
with Same-day Crowns
Same-day Crowns
Are you living with damaged or missing teeth? A dental crown or bridge is an affordable way to repair or restore your smile to the fullest. Our skilled team creates same-day crowns at our on-site laboratory to give you back your smile in just one visit!
Learn more ⟶
Restoring Smiles
with Dental Implants
Dental Implants
Dental implants are a long-lasting, natural-looking tooth loss solution for patients missing one or more teeth. Our experienced dentists offer quality implant services to give you back your healthy smile!
Learn more ⟶
Transforming Smiles
with Invisalign
Invisalign
Straighter teeth and healthier smiles are possible with Invisalign. We can help you achieve a more beautiful smile in less time than traditional braces!
Learn more ⟶
Do You Offer Financing?
Our practice offers flexible, affordable financing options to fit your needs, lifestyle, and budget. If you have been diagnosed and received a treatment plan from another practice, bring it with you during your consultation. We will work with you to find the most cost-effective treatment plan. Don't let the cost of dental care affect your overall health.
Ask About Our Price Match Guarantee
Bring in a treatment plan from a licensed dentist within 50 miles from our offices and we will beat or match the price. Dental Crown in an Hour, your low-cost leader in Southwest Florida for same-day dentistry at truly affordable prices since 2012, is proud to offer our price guarantee!
Do You Accept Walk-ins and Same-day Emergency Appointments?
Yes, we do! Our team welcomes patients on a walk-in basis and are happy to work with your schedule to ensure the smallest amount of interruption to your daily activities. We are also well-known for accommodating your emergency dental needs with fast, affordable care. If you find yourself in need of an emergency dentist in Fort Myers, Naples, or Bonita Springs, contact us right away and we'll get you in with one of our compassionate and skilled staff members as soon as possible.
Contact us
If you are experiencing any symptoms of gum disease or if you are looking for treatments, schedule an appointment at Dental Crown in an Hour.